Novus Plastic Polish n Cleaner SAMPLE
Great for Slot Car Bodies, models (cars, planes, etc...) plus much much more.....

NOVUS has been the best kept secret for years, but the word has gotten out to millions of people that NOVUS can restore and clean your plastic/acrylic products.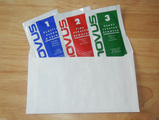 Here are a few uses for Novus Polish....
DVD's, Video Games, CD's.
Auto Interiors, Gauges, Chrome, & Acrylic Paint.
Microwave Oven Doors, Decorator Acrylic .
Refrigerator Panels.
Motorcycle Windscreens, Visors, Fairings & Helmets .
Snowmobile Windshields, Helmets, & Hoods.
Acrylic Hot Tubs & Spas.
Boat Windows & Fiberglass.
Salad Bar Sneeze Guards.
Emergency Vehicle Light Bar Lens Covers.
Plastic Storm Windows & Skylights.
Collapsible Windows on Convertibles & Sport Utility Vehicles.
Turntable Dust Covers, Stereo Faceplates.
Acrylic, Fiberglass or Cultured Marble Tubs, .
Showers & Counters.
Acrylic Aquariums.
Telephones, Pagers, Scanners.
Acrylic Trophies & Awards.
Plastic Display Cases & Signs.
Gauges & Instrument Control Panels.
Safety shields & Goggles.
Airplane Windows.
Video Games, Pinball Machines & Jukeboxes.
Copiers and Fax Machines.
Acrylic Furniture.
Cash Registers & Calculators.
Acrylic on Tanning Beds .
International buyers are welcome.

PRICE $1.50
WE SHIP 'ANYWHERE'

Try it and see what it can do.... you'll never use anything else...

___________________________________________________________